Aliyah, 9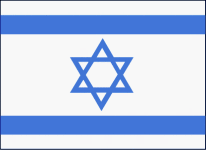 /9/06: A Wedding
After war, my first wedding.
Mordechai's and Sharona's.
Arriving in Netanya, how to find the wedding emporium? Netanaya, the Nice of French emigres, most of whom but a generation removed from North African refugees — Algeria, Tunisia, Morocco. Escapees to La Patrie, home of laicite, they now escape Paristan to find refuge in Israel.
I fly in from the States the day of his wedding, cab to my Merkaz Klita apartment, drop off luggage, then seek out the wedding.  But before I could get there, I will tell you of Mordechai. He, who calls me loudly, Akhi, My Brother.
He and I in Ulpan together for some six months. He made aliyah, because he is a Zionist, moved here to make a Jewish life, now needed a Jewish wife, an Israeli one. At one point, took a drag on a Gallouis, grimaced, then fiercely tossed it to the ground, never to smoke a French cigarette again. He is done with France.
Mordechai teases me. In France, his Jewish friends — the Ashkenazi from Poland, Germany — would tease Mordechai when he listened to Mizrachi tapes, the nasal singing from Morroco or Yemen. They accused him of being almost an Arab, and he responded, You're almost Jewish. When I — an Ashkenazi both Polish and German –worked at my Hebrew — a throaty ayin or chet — he would chide me, and I said that I was working at being almost Jewish.
He left home at seventeen, his parents had told him several times that they had never wanted children. Lived in the streets. He did guitar, Jimi Hendrix his lodestar. Taught guitar. Gigged with bands. Cut some discs. Also did sports, got into school, first for a masters in sociology, then to the Sorbonne for his Ph.D. in sociology of science. We discussed Yossi Ben David at the Hebrew University, Michael Polanyi at Chicago, and Thomas Kuhn, who died too young. Mordechai wanted to talk with me about his thesis, wanted it translated into English. But he insisted that we only speak Hebrew — our common language, he insisted. This limited what I could discuss about sociology.
But it did not limit our friendship.
He loved Rutie, our ebulliant, lizard-booted Hebrew teacher. The boots with engraved silver tips and especially the embossed heels gave her a heel, a height, a touch of attitude which she thinks she needed. When in a feather, she would about crow, straining at her full five feet, insisting that she was closer to six feet. Born during the rainy season in a tent in the early '50's, her parents refugees from Syria.   Always in a rush, she explained, so she couldn't wait for the hospital.  She envied Bridgitte of France, for her perfect waist, understated grace. She adored Mordechai; wanted me to uncle him.
And Mordechai loved her.
But, how does this Frenchie search for an Israeli wife? He carries off the dress of a young  chicParis mec: t-shirt beneath a sports jacket; tight jeans with low-slung, slanted back pockets; pointed shoes; spiked hair. Working full-time in the evenings for a major science company, he was making use of the Sorbonne Ph.D. and often slept through class. At one point, he entered class, t-shirt obscured by another raw-silk jacket, then flashed open lapels to reveal the Superman Logo, and beneath in Hebrew, "Super Bachelor," which he was determined not to remain for long.  Frazzled, he confessed to me that he was dating three women at a time — a bit much for him.
A trip to home over December, some Arab school mates recognized him in the street. Called him dirty Jew. Mordechai is a fighter; doesn't do the scrape and bow. Here , against four fellows, got into a bad scrape that had him hospitalized, damaged his larynx. He returned once more to France to testify against these fellows, who are now in jail Vowed never to return to France. Until he met Sharona. Through her brother. I was there, at the tiyul, even photographed the two together — brother and Mordechai, not knowing what was happening. They were perched on a petrified tree — Mordechai and Micha — several hundred yards away. Mordechai told me only that this young fellow, Micha, our armed guard on the tour of Mitzpeh Ramon, had once been in a sports group from Israel, visiting France and had stayed at Mordecai's.  A rather nice coincidence I thought at the time.  But more was cooking.
Micha told Mordechai that he knew of a really nice girl, Yemenite background, like Mordechai wanted.  Should he arrange a coffee?  Until after the first date the next day did Mordechai learn that Sharona was Micha's sister. Then coffee the next night, and the next, then dinner and the announcement. Mordechai had taken to wearing a kippah, to honor this Orthodox Yemenite family. Somehow, perched on the gelled spikes, this lid stuck on.
This is what brings me by cab to hunting for the wedding emporium in the old industrial area of Netanya. By the railway tracks. Along rows of garages, one-story factories, occasional felafelarias, I looked for where love would be ritualized.
Cabbie and I both hunt. We have a number, but one needs to match a number on paper to one on a wall, and numbers are sparse in the old Industrial area of Netanya. But ask someone, anyone working there at 7:30 in the evening, where is the wedding palace and they point — straight. I send off the cab and enter.
There is a party already in progress in a shell of a building; a mehitza separates men from women. Outside is a catwalk lined with flimsy white paper and strewn with crepe faux rose petals. There are fountains here and there, spouting sudsy water. There is a chuppa at the end of the catwalk. A few fabric draped chairs wobble in waiting. To the right of the catwalk, just at the stairs up, is a throne, gaudy, under a canopy.
I wait.
I ask.
No, this party is for a brit milah, a circumcision.
I ask about Mordechai and Sharona, and am shrugged off by a saleswoman working on a deal with a prospective couple, eyeing the catwalk, the chuppa, fingering, then sniffing the faux rose petals.
There is a communal-type set of toilets: men and women separate, but handwashing together.
Outside the toilets sit a group of Ethiopians, perhaps a family, perhaps they work here, having victuals.
I ask the guard, who sits forlornly along this, by now, mostly deserted industrial street, watching out for terrorists. He knows nothing about Mordechai and Sharona, but asks me the time.
I finally get that there is another entrance down the block. Same digs; different hall, which is a converted garage done up a bit.
Enter through the chain-link fenced gate and cross a shallow wooden bridge over a sudsy pool with gushing soapy fountains and I am at the right party. I hear music, the DJ warming up with Shlomo Arzi, and Shoshana Damari. A young woman approaches me, delighted and surprised to see me there. I am confused; think it to be Sharona.  But it is L. the fiance of C. one of my friends in Ra'anana. She is Sharona's cousin. What am I doing there? I tell her of Mordechai and she phones C., who is on active duty patrolling just after the Lebanese war. Guess who's here, he later tells me she said. He tries to explain to her that while on active duty, he is doing enough guessing; doesn't need more.
I meet Luc, once Mordechai's teacher in college in France, later a dear friend, who has made his first trip to Israel for this wedding. To Jerusalem he had been yesterday — still stunned by the experience. Lanky, wishing that he could speak to me in French, his English is servicable enough to tell me of Mordechai's fractious family; their refusal to attend the wedding, even to meet his fiance in France. Later, after the brief ceremony, after my hug to Mordechai, Luc comments, that it looks like Mordechai cares for me greatly.
Sharona's mother is divorced. Her sister, finishing high school, presents as several years older. They introduce me to diminutive Grandma and Grandpa, the original Yemenites. Grandpa is blind, from perhaps four or five; of one of these fly-born infections that we now control remarkably well, except in third-world countries. He became a very successful and famous musician, composer, singer. Fathered a family. Now, enjoys composing. I wonder how different his life had been without the blind eyes. When it comes to his turn at the ceremony to sing a prayer, his lips tremble, but not his voice, which is strong.
They appear. Mordechai looks a bit stunned. Lined up for photos, it takes a bit before he sees me. From Sharona, I understand the appearance of a glow that comes from within, illuminates the skin, gives a translucence to her beauty, radiates a soft light onto those around her. Her hair is done simply with small braids tightly to the scalp, tiny pearls lining them, and pulled back to a cascade to her shoulders. Mordechai's face over the next half hour travels the gamut of feelings, from a frozen smile, to joy, to moments of poignance, even anxiety. I look at Sharona and see that Mordechai has brought joy to her life.
The ceremony for Jewish marriage is quite brief. All that is needed is for the groom to recite a brief passage along the lines of "With this ring, I bless you in the line of our forefathers to be my wife," (not an accurate translation), then slips a ring on her forefinger. The glass smashing, I explain to Luc, done by the groom is to remember the destruction of the first and second temples, to remember one of our greatest tragedies even as we celebrate our greatest victories.
And this is a personal victory.
The Rabbi asks Mordechai to recite the words after him. Mordechai eyeing the Rabbi's lips carefully, reciting each word at a time, until the Rabbi tells him, "I'm already married; look at her."  Which he does.
They walk down the crepe paper walkway, strewn with crepe petals, and we wend past the bathrooms, around the table of Ethiopean diners outside, and into the hall, where the DJ is at work.
Foods are served. Much dancing is done. This is an orthodox mostly Yemenite wedding, but men and women do dance together, and they also dance in separate groups.
Rutie, his — our — Ulpan teacher approaches with her husband. I ask her to sit with us.  A bit beside herself at his marrying so soon; wished he had done a bit more of the wild-oat stuff. But, also distressed that his parents didn't show, his family. I think — this is his family, we are his family, this is his home. I join them in a circle dance, stomping away to emphasize my thoughts. The Yemenites are bit surprised at my adroit grapevine.
These B'nei Akiva fellows (a religious Zionist youth group), one woman comments, know how to have a good time. They dance, especially Sharona's brother, who perhaps tops-out at 5 foot five. Their kippot flip madly with their steps; some grab their kippot in their teeth, when they fall off. One fellow wraps his legs around a friends waste, leans back, and in some sort of gymnastic performance of abdominal fortitude, generally seen in Chinese circus acrobats, holds himself horizontally as he claps his hands and his buddy leaps about.
Brother-in-law sweeps behind and below Mordechai to lift him upon shoulders to prance about. I don't believe either will remain upright, but for some minutes they twirl and leap until another joins in.
Sharona is lifted by chair, then Mordechai in another and they are danced around each other.
But, they are most comfortable, quietly comfortable as they dance in each others arms, talking.
I am beyond jet-lagged; wonder how to get a cab onto this now-forlorn industrial street, populated by garages, felafelarias and one wedding emporium. A waiter proffers his phone, calls a cab.
Guard gone, street dark, I leave Mordechai and Sharona's wedding.
Copyright, N. Szajnberg, 2006